Design LAB is a FREE, hands-on K-8 education program offered to teachers in the Cincinnati area that is focused on building awareness, knowledge, and community. This year's theme is LEARNING SPACES.
We will be challenging students to push the limits of where and how we and others learn. When we think of learning spaces we often think of the space that we learn in ourselves. We may also think of where and how our neighbors or friends learn. This year in Design LAB, we are going to challenge students to look at how people (and animals!) learn all over the world. How can a learning space inspire others to want to learn more or spend more meaningful time in the classroom? How does our local environment change how we learn? How does our age or size change how we learn? Where can learning spaces be located and how big or small can they be? What needs do they need to meet? Join us as we investigate all of the different learning spaces that exist all over the world!
We love this photo of a fun and unique learning space :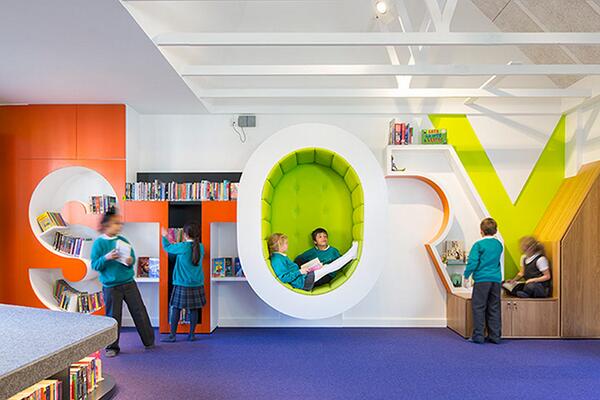 Further Program Details
Design LAB is tailored to broaden and deepen student awareness, appreciation, and active participation in our natural and built environments.  Local professionals team with educators to guide students through a real-world, themed design problem, emphasizing the development of: research, critical thinking, financial literacy, problem solving, verbal and visual communication, creative expression, collaborative team-building, STEM and presentation skills.
Starting at the beginning of January, volunteers will be available to help with the building process of the program. Each classroom will be matched with a volunteer and students who sign up as individuals will sign up for a day/time where they can meet with a volunteer and other students via a virtual platform. Each classroom session is approximately 45-60 minutes, and is assisted in partnership with the lead educator. Essential materials including the Educator & Volunteer Resource Guide, PowerPoint kick-off presentation and tri-folds are provided by Design LAB.
Students will be challenged to research, design and build models of learning spaces. As in previous years, students will have the opportunity to create a 24″x 24″ three-dimensional model and tri-fold panels for students to describe and document their creative process including:  concept images, sketches/drawings, vocabulary, budgeting, written data, planning, etc. At the end of the work period, submitted projects will be displayed during Design LAB Exhibit Week where students may present their ideas, methodology, and solutions.
---
2021-2022  PROGRAM CALENDAR 
*Dates & Plans subject to change
Educator Registration Opens                   August 1, 2021
Volunteer Registration Opens                  September 1, 2021
Orientation Workshop                              November 9, 2021
Orientation Workshop                              November 10, 2021
Educator-Volunteer Teams Assigned     November 30, 2021
Program Kick-off                                        January 3, 2022
Program Conclusion                                  April 29, 2022
Design LAB Exhibit Week                        May 7 – May 14, 2022
Design LAB Exhibit Jury Review            May 10, 2022
Design LAB Exhibit Reception                May 14, 2022
Learn about Design LAB from our Volunteers & Educators:
We look forward to working with you to engage and inspire students in exploring, designing, and building their environments!
If you have any questions, please contact Christen Lubbers, Executive Director
CLubbers@architecturecincy.org
(513) 421-4469
"Working with the kids gave me new energy and enthusiasm for my work. Seeing it all through their eyes was really fun and inspiring."  – Classroom Volunteer
"I learned all about teamwork. You've got to trust your team, especially when building." – 4th Grade Student